Welcome to our Targets quick start. Here you'll learn:
Notice
To view and edit the Targets section, you need to have the privilege Edit Targets.
In short: In the Targets section of the Dashboard you decide what Acrolinx checks and which issues show up in the Acrolinx Sidebar.
You create a Target to tell Acrolinx what type of guidance you want for a particular type of content. A Target determines the type of guidance that writers receive from the Sidebar. You can define your content goals depending on your audience or content type.
A Target consists of one or more goals. A goal is an aspect of language that you want Acrolinx to focus on. Each goal is made up of guidelines. A guideline relates to a specific piece of guidance that Acrolinx provides (for example, "Is this word spelled correctly?").
Notice
To make guidelines easier to find, Acrolinx organizes them into broader groups (for example, "Spelling" and "Sentence Structure"). You decide which goals you want to include in your Target and if they count toward the Acrolinx Score.
| Goal Name (Click for more information) | Checks for... |
| --- | --- |
| | Spelling and grammar |
| | Readability |
| | Tone of voice |
| | Inconsistencies |
| | Clear structure |
| | Your terminology |
| | Aspects of inclusivity |
| | Preferred expressions from Reuse |
Example: Let's say you manage blog posts and technical documentation. Those 2 types of content would need different types of guidance. You would create a Target for blog posts (maybe with a focus on tone) and a separate Target for technical documentation (maybe with a focus on consistency).
To check content with Acrolinx, you need a Target. Decide which goals to include and start creating,
To create a Target, follow these steps:
Click CREATE NEW TARGET to open the slide-out dialog.

Choose a unique name for your Target, and select the language you're creating the Target for. You might also add a description.

Select your goals from the goal list that appears in the slide out. You'll see this after you select a language. Your Target needs at least one goal.

Click Create.
Tip
You'll see your existing Targets in a list on the Targets page. You can always add or remove goals with the Edit Target option. To open a Target, click on the Target name and click Edit Target

on the top left. Read on in Create and Edit Targets.
After you've created a Target, you might want to make sure that it's set up according to your needs.
Each goal comes with some presets. These presets help you set up the type of guidance you want from a goal so you don't have to adjust all the guidelines yourself. You can use the presets that meet your needs — such as choosing a "conversational" tone — or create custom presets.
Select a Preset
Acrolinx provides presets that are suitable for a lot of content needs. The presets make it easy to pick the type of guidance you'd like so you don't have to adjust each individual guideline. You can choose the preset that fits best for each goal.
Presets work out of the box so you can adjust your goals without thinking about specific guidelines. In Clarity, for example, you decide if your content should be simple or more complex.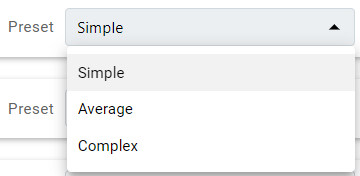 To select a preset, follow these steps:
In the list of Targets, hover over the Target that you'd like to edit and click the Target name.

Click on a goal to expand it.

Select a preset from the dropdown next to the goal name.
You can also create custom presets. See Fine-tune your Goals to learn more.
Tip
Goals are Required by default. You can also set a goal to Recommended. If you do this, Acrolinx will show guidance for a goal, but it won't count toward your score. Learn more in The Acrolinx Score Explained.
Now, that you've created a Target, you need to make sure that the right writers are using it. You'll see the number of Targets that need an assignment in the red notification in the upper right corner of the Target Assignment button.

To assign a Target to your writers, follow these steps:
Click MANAGE ASSIGNMENTS to open the slide-out menu.

You'll find unassigned Targets at the bottom of the list. Click on the arrow to expand the list.

You can either assign the Target to all writers, or select which content contributors should check with the Target.

To assign the Target to all users, click the plus group icon Assign to all.

To select specific writers, click the pen icon Edit. You can select users based on the following criteria:

Acrolinx role. To select roles, click the check boxes in the list view.

Custom user information that is set to mandatory. To select custom user information, click the check boxes in the list view.

Usernames. You can search for usernames in the search field or click the check boxes in the list view.

Click SAVE. For more information on criteria selection and Target assignment management, read on in Target Assignment.
Here's an example of options that you have when you don't want to Assign to all. In this case, Department is the custom user information field.